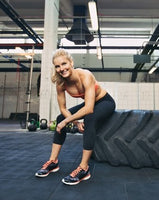 The Pro Nutrition Labs Way...
No "Proprietary Formulas"
-You know exactly what you are putting in your body
Dosage For Women's Needs
-We produce our supplements for women, not 250 lb men!
1,000's Of Happy Customers
-We support our customers and make products to help them reach their goals.
TRULY CLEAN Products You Can Trust!



TRUSTED INGREDIENTS
We source the highest quality ingredients and use to artificial sweeteners or unnecessary fillers.
GMP COMPLIANT
Using GMP compliant and FDA regulated guidelines; our products are verified through random and independent laboratory testing.
PROVEN FORMULAS
Our nutritional supplements are based on validated scientific research and they are all made in the USA
Testimonials
This protein is awesome! The nutrition is perfect - gluten free and no hormones! The customer service is the best I've ever experienced also. I will continue to buy this product!

Allison Devaney
I've been using Women's Natural Whey a little over a week now & it's great! Not only does it taste good it helps me recover from my workouts at a quicker pace. I would definitely recommend this product.

Elisha D.
I've been using this product for about a week now and I absolutely love it. It honestly is the best tasting protein powder I ever tasted.... I feel like I am more energized after drinking this also I notice it makes me feel full so I'm not tempted to eat as much. I definitely recommend this product to my friends.

Amanda Clarke
What a great product! The ingredient list is simple (which is HUGE to me). There are no artificial sweeteners. The powder mixes easily with water in a shaker bottle so your drink is smooth-no clumps. I have boosted energy and endurance and find my performance is better. I highly recommend this!!

Jessica Di Geronimo